A little history lesson. No not like the ones you got in school but about me :) My mother may she rest in peace use to have a wonderful greek/american restaurant named Nikkos. I learned so much from her and my love for greek cuisine came from her. I am a bit stubborn and picky when it comes to my food but greek will always hold a special place in my heart. Most people love mashed potatoes, or corn bread or some fried chicken as their comfort food but for me it will always be greek. Ok lesson over now on to some food and mouth watering pictures.
On The Menu:
Greek Style Pita Sandwiches (with homemade pita bread)
Greek Potatoes
Creamy Cups of Heaven for dessert.
I wasnt able to get my own mouth watering photos so borrowed these and will post the links to the original recipes.
The Greek style sandwich recipe came from one of my favorite food blogs you can view it
HERE
The Greek potatoes are very simple. Just wash and cube about 4-6 potatoes depending on size, toss them with minced garlic, dill, olive oil, and lemon juice and bake on a cookie sheet @ 425 degrees til tender (about 30 min or so)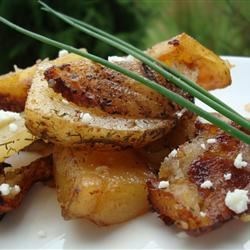 Now on to the dessert. This is rich and creamy and so good. My bf thinks its like cheesecake without the crust. You can top it with chocolate or caramel or fruit. Its up to you. Recipe
HERE