I received both the rejuvatherapie & the hydratherapie so i thought i would put them to the test. First let me tell you a little about my hair. I have long thick hair about to the middle of my back, it has lots of body and looks similar to a lose spiral perm. It is normally a very dark brown but i dye it black. (more on what i dye it with later) Im mostly native american thus leaves me with oily hair by nature but since i dye it, blow dry it, straighten it and what have you its a oily/dry combination. So on to the review.
First i tried the hydratherapie. Its claims hydrathérapie continuously moisturizes hair to help stop the dehydration cycle with the Anti-Dry Care of Aloe + Passion Fruit. I don't know about all that but it did leave my hair soft and smooth. The shampoo didn't smell very good at all which was shocking. But it lathered great and rinsed super clean so i has a happy camper. The conditioner did smell better and was a nice thick creme. I was able to get it all rubbed in and leave it set while i shaved my legs with out it dripping and running in my eyes. So after about 7-10 minutes i washed it out and wow, my hair was so hydrated lol. It was so silky i couldn't wait to get out of the shower and dry it. As it dried i instantly noticed the radiance, my hair had shine it wasn't dull and lifeless no more :)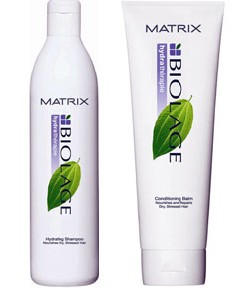 So next i tried the rejuvatherapie and had high expectations due to the previous review but was let done with this. The shampoo smelled really nice so i was already happy. It lathered just as good as the hydratherapie and rinsed clean. However when it came time to condition i was beyond upset. The conditioner was a nice thick creme but felt like glue in my hair. It wasn't soft or silky or pleasant in any way so after washing it out and trying to manage through the tangles it left behind i had to grab for a different conditioner to do the job right. I cant really give a very accurate after thought since i did have to re-condition so i will just leave you with this.
Both of these lines are about $15 per bottle so your looking at about $30 for a set and that may be on the high side for some of you but if your getting the hydratherapie i would say its totally worth it. Stay far away from the other one unless you like tangled glue hair.